Jigsaw puzzles from Japan
Index to Artists
On this page: Best-selling artists - Traditional painters - Illustration - Fantasy - Photographers - About Japanese names
A list of all Japanese artists whose work features on our puzzles, including not only painters and illustrators, but also photographers (but excluding anime for now). If you are looking for other examples of the artist's work, try the link to search at Google for the name in Japanese.
Artists' names are written in various orders, but the family name is always underlined.
Please note that the enlarged signature illustration may be that on a different puzzle from the sample shown.
Best-selling artists
Morita Haruyo
Fujishiro Seiji
Harai Kayomi
Shu Mizoguchi
Takaki
---
Traditional
Ozuma Kaname
Katsushika Hokusai
Tōshūsai Sharaku
Sekiguchi Inoichirô
Ogasawara Etsuko
Takeuchi Hakuga
Mori Seikaku
Kitagawa Utamaro
Utagawa Hiroshige
Kayama Ryokusui
Ukai Yuhei
Jun Sato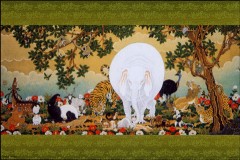 Toyama Hiroko
Itō Jakuchū
Jiro Takidaira
Ryoko Kimura
---
Illustration
Izumi Kazumi
Hiroyuki Suwahara
Shinji Yamamoto
Akiko Ikeda
Youseki Miki
Chihiro Iwasaki
Reina Sato
Taki
---
Fantasy
Kagaya Yutaka
Sasakura Teppei
Kentaro Nishino
Kazuha Fukami
Yuu
Kayo Horaguchi
Tsukiji Nao
Kei
Miki Okuda
Nishimura Noriko
---
Photographers
Mitsuaki Iwagō
---
About Japanese names
All modern Japanese names have two elements: a family name, followed by a given (or "personal") name. Almost all family names are written in Chinese characters (typically two characters), and so are the majority of given names. Historical names can be a bit more complicated, but invariably the pattern is "Big-endian", that is, the family name comes first, and the order goes from more general to more specific.
It has always seemed to me that a person's name is, well, their name, what they are called. So the obvious thing to do is simply to write down the name (as closely as possible) in Roman letters. This means that the family name comes first, which is not the usual way in English-speaking countries, but at least we can all say the name roughly the same. This is the usual practice with Chinese names, for example, so we have Mao Zedong and Chiang Kai-Shek, who are Mr Mao and Mr Chiang. And then, surname-first is sometimes distinctly preferable, as in telephone directories. Nonetheless, things are not really as clear-cut as this: in many parts of Europe, name order is much more fluid, and while names in Hungarian are written family name first (Bartok Bela, Liszt Ferenc), in neighbouring German-speaking areas the same names have generally been reversed, as in Franz Liszt (who, I believe, couln't even speak Hungarian).
So it seems that basically Japanese children learn at school that they should write their names family-name-last when in Roman letters. There has never been much consistency about this, though, and scholarly writing much more commonly preserves the original order; more recently the pendulum has swung back towards not reversing the name order for general use. Expect more confusion!
Artists' names
The tradition (as in the artistic world in general in Japan) is to use a "brush name", and this makes it even harder than usual to guess which is the (adopted) 'family' name if you don't know which order you are looking at. But there is another special difficulty with artists - whereas in everyday life in Japan people are known by their family names, artists usually go by their given names. So Hokusai is known by his (adopted) personal name Hokusai, and his (original) full name is Katsushika Hokusai, where Katsushika is not an original surname, but where he was born (now part of Tokyo). The trouble is that websites, art books, and other references sometimes call him "Katsushika Hokusai", sometimes "Hokusai Katsushika" (presumably because everyone knows Japanese names are written backwards). Then we find "Hokusai, Katsushika" which strongly implies that Hokusai is a family name - the end result is just more confusion.
What to do about it?
Where artists have become known by the 'backwards' family-name-last form, I've used it. Otherwise, I have generally kept the original form. But so that we know where we are, I have underlined the family name.
As usual, Wikipedia has a good general article on Japanese names.