Imaginatorium Shop, version 2
Welcome to the new Imaginatorium site at imaginatorium.com. There is no "total reorganisation", so you should be able to find things easily, and eventually any bookmarks to the old shop will be redirected to the right page. The new checkout is working, which means that in simple cases you will be able to complete a purchase in the normal way.
Covid-19: Shop status
There are still many problems in the postal system, varying hugely from one country to another. More details on the front page, and at the checkout there will be more specific information about the destination country (sorry: not implemented for all countries yet!).
Jigsaw puzzles from Japan
Naruto anime puzzles
Naruto is a long-running anime series, written by Masashi Kishimoto. The first series began in 1999, and the sequel, Naruto Shippuden, or "Naruto Hurricane Chronicles", in 2007. For more background, see the Wikipedia article Naruto.
© Masashi Kishimoto
The hero Naruto Uzumaki, portrayed with 3528 tiny images from the Shippuden series...
This puzzle picture is made from more than a thousand tiny images.
In stock
An Ensky (Artbox) puzzle: 1000 pieces; 750 x 500 mm (30" x 20")
Code: N10395 (1000-395 on package)
Retail price ¥3400 (approx. US$26.36 €24.29 £21.52)
All about ordering (please read first)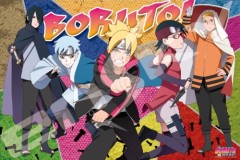 © Masashi Kishimoto
Boruto: Naruto the Movie is the latest animated adventure film in the Naruto series, released in August 2015.
In stock
An Ensky (Artbox) puzzle: 1000 pieces; 750 x 500 mm (30" x 20")
Code: N10548 (1000-548 on package)
Retail price ¥3200 (approx. US$24.81 €22.86 £20.25)
All about ordering (please read first)