Jigsaw puzzles from Japan
Hello Kitty
© Sanrio
Happy wedding party
Out of stock
Resupply date uncertain
A Beverly puzzle: 1000 pieces; 720 x 490 mm (28" x 19")
Code: B31519 (31-519 on package)
Retail price ¥3300 (approx. US$23.24 €21.15 £18.33)
All about ordering (please read first)
© Sanrio
Sanrio sparkling characters - fluffy dream
Out of stock
Resupply date uncertain
A Beverly puzzle: 1000 pieces; 720 x 490 mm (28" x 19")
Code: B31531 (31-531 on package)
Retail price ¥3300 (approx. US$23.24 €21.15 £18.33)
All about ordering (please read first)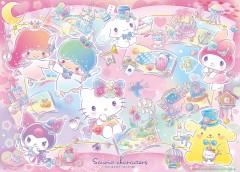 © Sanrio
Sanrio characters sparkling fairy tale
Out of stock
Resupply date uncertain
A Beverly puzzle: 600 pieces; 530 x 380 mm (21" x 15")
Code: B66148 (66-148 on package)
Retail price ¥2400 (approx. US$16.90 €15.38 £13.33)
All about ordering (please read first)
© Sanrio
Wedding in Paris
In stock
A Beverly puzzle: 600 pieces; 530 x 380 mm (21" x 15")
Code: B66122 (66-122 on package)
Retail price ¥2400 (approx. US$16.90 €15.38 £13.33)
All about ordering (please read first)
© Sanrio
Hello Kitty's fairy garden
In stock
A Beverly puzzle: 600 pieces; 530 x 380 mm (21" x 15")
Code: B66121 (66-121 on package)
Retail price ¥2400 (approx. US$16.90 €15.38 £13.33)
All about ordering (please read first)
© Sanrio
Kiki and Lala ride the Unicorn
In stock
A Beverly puzzle: 300 pieces; 260 x 380 mm (10" x 15")
Code: B93154 (93-154 on package)
Retail price ¥1600 (approx. US$11.27 €10.26 £8.89)
All about ordering (please read first)
© Sanrio
Hello Kitty collection room
In stock
A Beverly puzzle: 300 pieces; 380 x 260 mm (15" x 10")
Code: B33128 (33-128 on package)
Retail price ¥1500 (approx. US$10.56 €9.62 £8.33)
All about ordering (please read first)
© Sanrio
My Melody strawberry world
In stock
A Beverly puzzle: 300 pieces; 260 x 380 mm (10" x 15")
Code: B93153 (93-153 on package)
Retail price ¥1600 (approx. US$11.27 €10.26 £8.89)
All about ordering (please read first)
© Sanrio
Cinnamon Kuromi lovely friends
In stock
A Beverly puzzle: 300 pieces; 380 x 260 mm (15" x 10")
Code: B300Z022 (300-022 on package)
Retail price ¥1800 (approx. US$12.68 €11.54 £10.00)
All about ordering (please read first)
© Sanrio
Hello Kitty Princess
In stock
A Beverly puzzle: 300 pieces; 260 x 380 mm (10" x 15")
Code: B33180 (33-180 on package)
Retail price ¥1500 (approx. US$10.56 €9.62 £8.33)
All about ordering (please read first)
© Sanrio
Cinnamoroll Florarium
In stock
A Beverly puzzle: 300 pieces; 260 x 380 mm (10" x 15")
Code: B33171 (33-171 on package)
Retail price ¥1500 (approx. US$10.56 €9.62 £8.33)
All about ordering (please read first)
Hello Kitty's snack history
In stock
A Beverly puzzle: 300 pieces; 380 x 260 mm (15" x 10")
Code: B33172 (33-172 on package)
Retail price ¥1500 (approx. US$10.56 €9.62 £8.33)
All about ordering (please read first)
© Sanrio
Kitty's Florarium
In stock
A Beverly puzzle: 300 pieces; 380 x 260 mm (15" x 10")
Code: B33173 (33-173 on package)
Retail price ¥1500 (approx. US$10.56 €9.62 £8.33)
All about ordering (please read first)
© Sanrio
Floral ribbon
In stock
A Yanoman puzzle: 300 pieces; 380 x 260 mm (15" x 10")
Code: Y03815 (03-815 on package)
Retail price ¥1500 (approx. US$10.56 €9.62 £8.33)
All about ordering (please read first)
© Sanrio
Forest friends (My Melody)
This puzzle is postcard size, with micro pieces
In stock
A Yanoman puzzle: 204 pieces; 100 x 147 mm (4" x 6")
Code: Y98568 (98-568 on package)
Retail price ¥500 (approx. US$3.52 €3.21 £2.78)
All about ordering (please read first)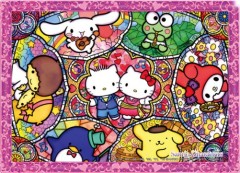 © Sanrio
Sanrio stained glass musical
Hello Kitty and Dear Daniel and surrounded by their friends in other panels of this "window"...
This puzzle has smaller pieces than the standard size.
Framed translucent puzzle, complete with stand
Not available
Discontinued October 2023
A Beverly puzzle: 165 pieces; 212 x 153 mm (8" x 6")
Code: BCJP032 (CJP-032 on package)
Retail price ¥2000
© Sanrio
Hello Kitty pirate treasure
This puzzle has TINY pieces!
In stock
A Beverly puzzle: 108 pieces; 147 x 100 mm (6" x 4")
Code: BM108099 (M108-099 on package)
Retail price ¥600 (approx. US$4.23 €3.85 £3.33)
All about ordering (please read first)